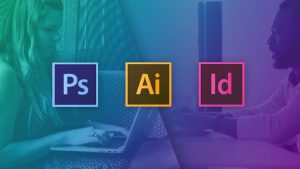 The Ultimate Graphic Design Course Which Covers Photoshop, Illustrator, InDesign,Design Theory, Branding and Logo Design
Graphic DesignCreated by Lindsay MarshLast updated 11/2019EnglishEnglish [Auto-generated]What you'll learn
Have a deep understanding of typography, color theory, photos, layout, blocking and other design theory and skills
Understand and learn the essential tools and capabilities of Adobe Photoshop, Illustrator and InDesign
Create logos and branding packages for potential clients
Learn photo editing and manipulation in Adobe Photoshop
Master the pen tool, shape builder tool and other essential vector design tools in Adobe Illustrator.
How to create editorial spreads and magazine layouts using Adobe InDesign
Understand solid logo design and ad design principles to create compelling campaigns and logos
Work through the entire package design process – Graphic Design
Learn non-destructive editing techniques in Adobe Photoshop
Work through an event flyer design to understand strong type hierarchy, balance and overall design layout
Learn a few of the upcoming design trends for 2019 – Graphic Design
Learn the history of fonts and typefaces and how to pair fonts
Learn the basics of Affinity Designer and learn the difference between Adobe Illustrator and Affinity Designer
Work through a 7 page vector tracing worksheet and feel confident creating a complex vector illustration by the end of this worksheet
Requirements
Access to Adobe Photoshop, Illustrator (Or Affinity Designer as an Alternative) and InDesign. I will be using the Adobe Creative Cloud versions, but those with older version can still get a lot out of this class.
If you use Adobe products, I highly suggest using versions CS6 or higher to have a more smooth experience with the course, but not a requirement.
Description
As you can see, this course is updated frequently with new lessons and projects!
Nov 2019 – NEW! – Adobe Illustrator introduction and tools section (vector tracing worksheet)
Nov 2019 – NEW! – Photoshop section and Projects (including a new youtube thumbnail and book cover project)
Oct 2019 – NEW! 11 page downloadable resource – The Guide to Grids
Oct 2019 – NEW! Color Theory and Color Harmony Lessons + new Downloadable Resources
July 2019 – NEW! Affinity Designer Section! Learn The Basic Tools and Differences Between Adobe Illustrator And Affinity Designer
May 2019 – NEW! Downloadable Resources – the Anatomy of Typography poster and the Psychology of Color graphic!
April 2019 – NEW Lessons: Finding Your Graphic Design Niche and Focus!
Dec 2018 – NEW Lessons: 2019 Design Trends Lessons
Graphic Design Master Class – Learn GREAT Design
Do you want to learn all the skills and techniques you need to create incredible designs?
Do you want to know the process of creating logos and branding packages?
Are you intimidated by learning photoshop, illustrator or InDesign and want to learn through practical real world projects? Than This class will be for you!
We will extensively review Typography, color theory, layout and composition, how to use photos in design, photo manipulations and editing and magazine layout design, branding and logo design just to name a few.
We also learn the basics of Adobe Photoshop, illustrator and InDesign and do projects with real world applications. Every designer needs to know and master these programs and this course makes sure you know the essential tools to power through amazing projects.
In Adobe Photoshop, we will review photo editing and manipulation techniques like how to cut objects out, duotones, changing color on objects, the liquify tool and we will create a compelling YouTube thumbnail with our newly learned photoshop skills as well as an entire book cover design project.
In Adobe Illustrator, we will master the pen tool by hand tracing simple and complex shapes. We will explore the power of the shape builder tool and In the end of this section, we will design a complete logo design. There is an entirely new introduction and tools section that has been added where we work through a 7 page vector tracing worksheet and in the end create a complex vector illustration using our newly learned illustrator vector tools. Lastly, we will put together an event flyer to practice our layout skills, and even work through the branding process and create a logo, business card and letterhead for a business.
We will will create a magazine layout in InDesign and learn the master pages tool to drastically speed up your design workflow when working with multiple paged layouts.
We will talk about branding basics, what makes a good logo? How do you extend your logo or brand to other marketing materials?
I designed this extensive course to be gentle enough for new comers to design but detailed enough for everyone to get a TON out of this course.
New Mini-Course Added! (April 2019)
Discover Your Design Niche!
Do you want to find out what design niche you should concentrate on? This is an exploratory mini-class added to the Graphic Design Masterclass course on Udemy (Section 15) that helps you find your next focus and explore many wonderful options for budding and established designers.
We are going to review some main core design categories and talk about what types of projects you will do and also what you will need to learn to leap into those design niches.
There are always more niches to discover but we will focus on the following in this mini-class:
Logo Design
Print & Editorial Design
Pattern Design and Illustration
Package Design
Branding Design
UX/UI Design
Social Media/Digital Graphic Designer
By the end of this class you will have a solid grasp of what each design niche entails. You will have confidence in choosing your top three focal niches to kickstart or enhance your design offerings and know what to learn next.Who this course is for:
Anyone interested in creating compelling and GREAT design.
Those interested in learning Photoshop, Illustrator and InDesign (Affinity Designer Too!)
Those wanting to understand graphic design basics and theory paired with real world projects and applications
Those looking to learn logo design and branding techniques and execution
Anyone wanting to become a graphic designer part-time or full-time, or those who need design skills to elevate their current careers.
Those looking for a solid graphic design foundations course with the depth of an intermediate level course
Those wanting to learn the basics of Affinity Designer and learn the difference between Adobe Illustrator and Affinity
Size: 9.2GB